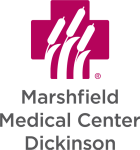 Marshfield Medical Center-Dickinson
The Marshfield Medical Center-Dickinson (DCHS) seeks Registered Nurses (RNs) to join their Iron Mountain, Michigan team in the following departments. Recent nursing graduates and all levels of experience being considered with various shifts available to accommodate your schedule.
RN-Emergency Department. Full-time weekday (10am-10pm, 11am-11pm, 3pm-3am or 7pm-7am) and part-time weekend (10am-10pm,11am-11pm or 3pm-3am) positions available.
RN-Float Pool. Full-time weekday (7am-7pm or 7pm-7am) and part-time weekday (7am-7pm or 7pm-7am) positions available to work in various departments. ICU-IMC will serve as home base for Float positions.
RN-Home Health & Hospice. Full-time and part-time weekday positions available (8am-4pm). Weekend rotation once every 4 weeks. On-call receives additional $3.50/hour plus time-and-a-half if called out; on-call typically no more than 1 day per week. Hospital vehicles offered; IRS mileage reimbursement if choosing to use a personal vehicle.
RN-Medical/Surgical/Pediatrics/Infusion Unit. Full-time RN (7pm-7am or 7am-7pm) and full-time Charge RN (7pm-7am) weekday positions available.
RN-Obstetrics Unit (OB). Part-time position (60-72 hours every 2 weeks) with shifts (7am-7pm and 7pm-7am) as assigned.
RN-Operating Room (OR)/Post Anesthesia Care Unit (PACU). Full-time weekday position available.
WHAT YOU WILL DO.
Comply with best practices in nursing as well as established home health policies and procedures to render optimal care for patients.
Maintain effective and professional communication with staff, patients, and care providers at all times.
Provide patient education.
Utilize and maintain supplies/equipment in a cost effective and safe manner.
Document and maintain data on patient record.
WHAT WE OFFER.
$29.82 – $39.67 per hour starting pay based on experience.
PLUS $1.25 per hour evening shift incentive for hours worked between 3pm-11pm.
PLUS $2.00 per hour night shift incentive for hours worked between 11pm-7am.
PLUS $2,500 sign-on bonus for full-time RNs (pro-rated sign-on bonus for part-time RNs based on hours worked).
Health, dental and vision insurance; prescription drug coverage.
Short & long-term disability, and life insurance.
Flex spending account for uncovered medical and/or daycare expenses.
401(k)/Roth 401(k) retirement plan with employer contribution (3% of annual wage first year; second year—DCHS will match your contribution up to 4%).
Paid time off (sick, vacation).
If you work 30+ hours per week (or 60+ hours in a two week pay period), then you qualify for full-time benefits. Part-time positions earn benefits if working 16+ hours per week (or 32+ hours in a two week pay period).
QUALIFICATIONS.
Graduate from an accredited school of nursing required.
Licensed Registered Nurse in the State of Michigan required.
Previous nursing experience preferred, however, recent nursing graduates also being considered.
Basic Cardiac Life Support (BCLS) certification, or ability to obtain within 30 days of hire.
Ability to manage a diverse workload and prioritize tasks.
Exceptional customer service skills with a professional demeanor that ensures trust, competence and compassion amongst patients and team members.
Flexibility in dealing with frequent schedule changes and patient requirements.
Ability to successfully pass a pre-hire drug screening and background check.
SOUND LIKE YOU? Take the next step and apply online at dchs.hirescore.com
Learn more about the healthcare system at dchs.org