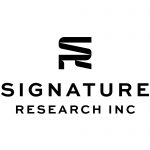 Signature Research, Inc.
Signature Research seeks a Software Development Manager to join their team in the Houghton, Michigan area. If you are an experienced leader who appreciates unique technology, are a good communicator, and enjoy working with ambitious clients and smart teammates, we want to hear from you!
The Software Development Manager supports and develops Department of Defense (DoD) and Defense Intelligence Agency (DIA) programs in the evaluation of signature management technologies, weapon system survivability, operational analysis, and ISR (Intelligence, Search and Reconnaissance) focal areas.
WHAT WE OFFER.
$100,000 – $130,000 annual starting salary based on your knowledge and experience.
Comprehensive benefit package in which company pays all premiums.
Relocation assistance, if needed.
Flexible work schedule.
WHAT WE ARE LOOKING FOR.
Bachelor's or Master's Degree in Computer Science, Computer Engineering, Software Engineering or a related field PLUS 5 years' working experience in this field.
You are hands on. We expect leaders to improve operational efficiency and develop a vision that leads to long term success of developer teams. Leaders will need to acquire in-depth domain knowledge about all aspects of our products, and to us, the best way to acquire this knowledge is by rolling up your sleeves to code, configure, and test alongside team members.
You seek to be a role model and good ambassador for our core values, can lead by example by setting expectations and context, and possess a shared passion for exceeding customer expectations.
You are comfortable with owning business goals. You must actively manage development activities of key components and initiatives owned by the team; encourage an environment that provides creative solutions to solve execution problems along the way to meet project timelines.
You can lead and cultivate a high performing team of 4-8 developers. You champion your team's efforts, ideas, and development of their careers and goals.
You communicate well with employees and customers. You provide product owners with scope estimates, high-level milestones for upcoming projects, and work closely with the scrum team in an agile environment to ensure work is consistently sequenced, digested, and completed at a reasonable velocity.
Knowledge and experience delivering code to production (i.e., developing code to create and process synthetic imagery for modelling and simulation purposes).
Experience in both ray tracing and raster rendering techniques a bonus.
Knowledge and experience with imagery generation to support requirements compliance, sensor development, and/or training systems a bonus.
Ability to work in-office in the Houghton, Michigan area is required. If not in the immediate area, one must be willing to relocate to the Houghton, Michigan region, or surrounding area of Michigan's Upper Peninsula.
The successful applicant must either possess an active Department of Defense security clearance, or meet the requirements necessary to obtain a DoD security clearance.
You are able to occasionally travel to various locations in the United States (10% – 20%).
SOUND LIKE YOU? Take the next step and apply online at signatureresearch.hirescore.com.
SGR is a small, high-tech business with offices in Calumet, Michigan and Navarre, Florida. We support a wide variety of Department of Defense programs with offices in Calumet, Michigan and Navarre, Florida. This position is an opportunity for exciting and challenging work with tremendous growth potential. Signature Research, Inc. is an Equal Opportunity Employer.