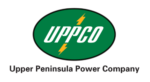 Upper Peninsula Power Company (UPPCO)
UPPCO seeks a Communications Specialist to join their team in Ishpeming, Michigan. This position develops and manages corporate communications with stakeholders, media, customers, employees and retirees.
The ideal candidate is able to design and create literature, graphics and other forms of communication to meet specific commercial or promotional needs using a variety of mediums. The Communications Specialist assists with development of data requests, correspondence, and communication materials for a wide variety of audiences; manages the Company's website, social media platforms, internal TV network, telephone recordings, event attendance, donation/sponsorship requests, and works with individuals at all levels of the organization.
RESPONSIBILITIES.
Coordinate and carryout Company communication and public relations strategies, promotions, and initiatives; develop and track messaging, informational material and multimedia campaigns consistent with communication strategy.
Prepare legislative briefing materials and other corporate communications (e.g., press releases, presentations, bill inserts, newsletters, advertisements, Annual Reports, PowerPoints, multimedia presentations, spreadsheets, etc.) in conjunction with the VP of Communications.
Utilize graphic design software to produce artwork, media, promotional, advertisement and informational materials for print and digital mediums.
Advise/educate staff on the proper use of Company logo, brand and marketing materials.
Consult with internal teams and subject matter experts to develop educational, promotional and PR materials that enhance customer awareness, satisfaction and retention.
Coordinate participation and provide logistical support for industry, corporate and community events.
Act as an assistant to the VP of Business Development and Communications.
Establish/maintain effective working relationships with the media.
Develop/plan media opportunities, events, press conferences, and responses to media inquiries.
Serve as the point of contact for advertising, marketing and public relations inquiries; identify, evaluate, track and recommend advertising and sponsorship opportunities.
Manage and track strategy, content and performance of Company website, social media and digital broadcasts using Google Analytics or comparable analytic software.
COMPENSATION/BENEFITS. This position offers a very competitive salary, based on knowledge and experience, along with a comprehensive benefit package. Relocation assistance available.
MINIMUM AND PREFERRED QUALIFACTIONS.
Degree in Business, Communications, Journalism or Marketing preferred.
Exceptional written and verbal communication skills with a calm disposition that works well under pressure.
5 years' experience working in a business office setting with professional writing, graphic arts/design, publications and related industry software (Word, Excel, Access, PowerPoint, Adobe Creative Suite (Photoshop, Illustrator, InDesign) preferred.
Experience with various communication channels and social media platforms (e.g., Mailchimp, Hootsuite, Twitter, LinkedIn, Google Analytics, etc.); basic HTML/CSS knowledge required.
Knowledge/understanding of utility industry operations and/or terminology a bonus.
Possess a valid driver's license and ability to travel as needed.
Must reside within a 30-minute commute of the Ishpeming work location.
SOUND LIKE YOU? Take the next step and apply online at uppco.hirescore.com