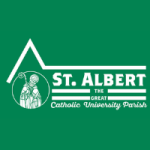 Website St. Albert the Great University Parish
St. Albert the Great University Parish seeks a full-time Director of Development to join their team in Houghton, MI. As the Director of Development, you will be responsible for all matters related to the execution, management, and support of the fundraising program.
The ideal candidate should be passionate about furthering the development of Catholic campus ministry and be committed to implementing the ministry's directives as found in the official documents of the Church.
RESPONSIBILITIES
Lead and manage all aspects of the ministry's fundraising program.

Raise funds for the ministry and programs of the parish.

Prepare annual plans for fund development activities.

Develop and maintain a three-year plan for the development program which is updated annually.

Manage all committees and advisory boards involved in development activities.

Set the strategic direction of all diocesan fundraising development efforts.

Maintain and promote the church's mission and directives.

Cultivate major gift relationships by maintaining an active pool of prospective benefactors who can support the organization.

Meet with potential benefactors in the form of Discovery, Cultivation, Solicitation or Stewardship meetings.

Assist in scheduling, coordination, and follow-up of benefactor meetings.

Supervise the stewardship process, including prompt gift acknowledgement for all benefactors.

Prepare and submit reports to the Pastor.

Plan and supervise special events, direct mail, phone-a-thon, and other solicitation activities.

Assist in the production and distribution of newsletters, brochures, and other marketing materials in support of the organization.

Direct the organization of the comprehensive development program through supervision of volunteers and staff.
WAGE/BENEFITS The Catholic Diocese of Marquette puts great value in the Director of Development position by offering a salary of $35,000 – $65,000/year, commensurate with knowledge and experience and a full benefits package including pension and health care.
WHAT YOU NEED TO SUCCEED
High School Diploma or equivalent

required.

Must be a practicing Catholic in good standing with the Church.

Involvement in a campus ministry program as a student

OR

3+ years demonstrated success and experience in managing a fund development program.

Knowledgeable in fundraising or a willingness to learn.

Must possess a valid driver's license.

Willing to travel 25% – 35%.

Knowledgeable in budgets, timetables, and action steps to achieve objectives.

Knowledgeable of Microsoft Office, specifically Excel and Publisher.

Strong interpersonal, verbal, and written communication skills.

Ability to take initiative, self-direct, and organize/arrange priorities.
If you accept the call, please apply online at diocese.hirescore.com
ABOUT St. Albert the Great University Parish was founded by Fr. William McGee and built in 1963. It is a personal parish that serves the students, faculty, and staff (both current and retired) of Michigan Technological University. Learn more at https://mtucatholic.org/