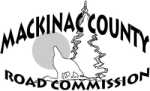 Mackinac County Road Commission
The Mackinac County Road Commission has an immediate opening for an Engineering Assistant to join their team in St. Ignace, Michigan.
If you are someone who enjoys being out in the field, this may be a perfect fit for you. This position assists the Engineer/Manager by performing field surveying, assists in the design and development of road construction plans, performs construction inspections and documentation, and various other technical engineering related work tasks.
WHAT WE OFFER.
$25.00 – $35.00 per hour starting pay.
Health, dental, vision and life insurance, or stipend paid if health insurance is not needed.
MERS defined contribution retirement plan with 9% employer contribution.
Paid holidays, paid sick, vacation time and personal days.
Employee assistance program.
Work boot allowance.
Company vehicle.
WHAT YOU WILL DO.
Produce drawings, plans, specifications and/or calculations for civil engineering technical projects by using 3D modeling software.
Review construction project plans for practicality, material availability, and suitability of specifications.
Inspect complete phases of construction and bituminous roadways.
Field surveying, staking and inspecting roadway and drainage projects.
Inspect placements of traffic signs, barricades and flag persons for sale flow of traffic through construction areas.
Prepare various reports, proposals, construction manuals, field books, work orders, contract modifications, etc.
Assist Engineer on projects (staffing, equipment needs, cost control, contract interpretation, etc.).
Represent the commission at meetings with the public, utility companies, contractors, etc.
Review work order and quality of work to determine payment/denial of payment to contractors.
Receive, answer questions, and process permit applications, invoicing and fees.
WHAT WE ARE LOOKING FOR.
Associate's Degree in Engineering Technology or a related field required; Bachelor's Degree in Civil Engineering preferred.
Experience with road construction or road maintenance helpful; a background in MDOT or road commission work a bonus.
1 or more years' experience in civil or engineering design preferred.
Ability to work under time constraints to ensure deadlines are met.
Working knowledge of CAD software as this position will use a variety of programs such as AutoCAD Civil 3D, Autodesk, MERL, Roadsoft, and Field Manager.
Ability to interpret and understand documents, drawings, and technical specifications required.
A versatile nature that can adapt well to changing priorities and projects.
Ability to promote a positive attitude in the work environment.
Valid driver's license required.
Ability to travel throughout Mackinac County to worksites, as needed, in a company provided vehicle.
DEADLINE TO APPLY:  Monday, October 31, 2022 at 2:00pm eastern time.
SOUND LIKE YOU? Take the next step and apply online at mackinaccounty.hirescore.com