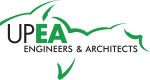 U.P. Engineers & Architects
U.P. Engineers & Architects (UPEA) seeks a Senior Environmental Engineer to join their team in your choice of locations:  Houghton, Iron Mountain, Ishpeming, or Sault Ste. Marie, Michigan, or Marinette, Wisconsin. If your career has focused on finding smart climate solutions and improving the natural environment, this may be a perfect fit for you.
WHAT YOU WILL DO.
This position offers a variety of opportunities for environmental professionals in such projects as:
Regulatory compliance and solid waste reporting.
Permitting: industrial storm water, Michigan Type I & Type II water well construction.
Spill prevention, control and countermeasure.
Storage tanks (AST, UST).
Property acquisition due diligence.
Brownfield Redevelopment – 381 Plan, TIFA Plan, state and federal funding programs.
Remediation: investigation/feasibility studies, action plans with soil and groundwater.
Hydrogeologic investigations, aquifer pump testing, slug testing, groundwater exploration methods.
Geologic map interpretation.
Environmental sample collection and evaluation related to state and federal criteria.
Knowledge of environmental and geotechnical drilling and other investigation techniques.
Wetlands capabilities-delineation and mitigation.
Indoor air quality testing (mold and other contaminants); Air Permit to Install familiarity.
Solid waste management and permitting; solid waste hydrogeological monitoring plans.
Contaminated site investigation and closure.
WHAT WE OFFER.
$75,000 – $110,000+ annually based on your knowledge and experience.
Performance bonuses.
Relocation assistance, if needed.
Health, vision and dental insurance.
Matched 401(k) retirement plan.
Paid time off and paid holidays
Employee Stock Ownership.
QUALIFICATIONS.
Bachelor's degree in Environmental Engineering, Environmental Science, or a related discipline required.
Professional Engineer license required.
10 or more years' environmental experience required.
Project management experience required with ability to manage multiple priorities and deadlines.
Knowledge of regulatory compliance specific to your field of expertise.
Ability to document and present work to teams in a clear, concise manner.
Proficiency with computers and Microsoft Office software.
Valid driver's license and willingness/ability to travel (as needed based on projects/meetings) required.
SOUND LIKE YOU? Take the next step and apply online at upea.hirescore.com
UPEA is an employee-owned company serving the Upper Peninsula of Michigan and Northern Wisconsin. With offices in Houghton, Iron Mountain, Ishpeming, and Sault Ste. Marie, Michigan as well as Marinette, Wisconsin, UPEA is the largest professional-services firm headquartered in the region. UPEA is a team of 60+ professional engineers, architects, surveyors, and environmental engineers and have been in business for more than 60 years. Take your career to the next level by joining the UPEA team where job satisfaction is consistently high, and turnover is low.