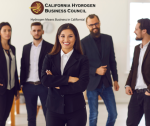 Website California Hydrogen Business Council
Are you passionate about the development of a more eco-friendly future for the state of California? California Hydrogen Business Council (CHBC) is seeking an Executive Director to lead these sustainable hydrogen efforts in California. As Executive Director, you will oversee all aspects of the day-to-day management of the CHBC staff and resources and serve as the organization's external champion for the advancement of the hydrogen sector in California.
This position can be performed from home anywhere in California.
At CHBC, we work to advance areas of environmentally friendly fuel. If you are motivated to create a more sustainable fuel industry, then this is the job for you!
RESPONSIBILITIES
Lead on matters related to hydrogen among key stakeholder groups in California, including representing the organization in public forums.

Lead the development of strategic plans to achieve objectives for advocacy and organization development.

Identify areas where CHBC's engagement can support the development of the hydrogen and fuel cell industry.

Convey the strategic clean hydrogen future to external stakeholders, the staff, and the board by being active and visible in the policy and business community.

Maintain strategic alliances with other related trade associations and non-profits.

Oversee the administration of CHBC, including revenue generation, member recruitment, strategic planning, budget management, and staff management.

Communicate timely and effectively with the Board.

Manage the fiscal integrity and governance of CHBC.
COMPENSATION/BENEFITS CHBC puts great value in the Executive Director position by offering a total compensation package (including Medical Match, 401 K Match, and PTO) of $150,000 – $180,000 a year, plus a performance-based bonus, commensurate with knowledge and experience.
REQUIRED QUALIFICATIONS
Travel is

required

.

Demonstrated success in strategic decision-making.

Demonstrated success in establishing relationships with individuals and organizations of influence to the hydrogen community,

Working knowledge of financial management, budget preparation, revenue streams, and improving financial results.

Strong interpersonal, communication, and public speaking skills.

Strong work ethic with a high degree of energy.

Experience creating diversity, equity, and inclusion.
PREFERRED QUALIFICATIONS
10+ years of senior trade organization management or equivalent business experience

preferred

.

Bachelor's degree or higher

preferred

.

Experience working with a Board of Directors

preferred

.

Experience at a senior level in energy or environmental organizations is

preferred

.
APPLY ONLINE at californiahydrogen.hirescore.com
No phone calls or walk-ins, please.
ABOUT The California Hydrogen Business Council (CHBC), located in the San Francisco Bay Area and Sacramento, California, is composed of over 120 members, the Council's mission is to develop and support policies that are representative of our member's interests in the advancement and commercialization of hydrogen and fuel cell technology.
California is the epicenter for domestic energy, environmental, and sustainability policy. Hydrogen and fuel cells are an increasingly important pathway to reach California's decarbonization and zero-emission goals. The CHBC is engaged in several venues to support the sustainable growth of the industry, including the Governor's office, the state legislature, the California Air Resources Board (CARB), the California Energy Commission (CEC), the California Public Utilities Commission (CPUC) and the California Environmental Protection Agency (CalEPA). Learn more at californiahydrogen.org
Equal Employment Opportunity (EEO) Statement
The California Hydrogen Business Council is a non-profit advocacy-based organization, 501 (c)(6), and does not discriminate in employment on the basis of race, color, religion, sex (including pregnancy and gender identity), national origin, political affiliation, sexual orientation, marital status, disability, genetic information, age, retaliation, parental status, military service, or other non-merit factors.