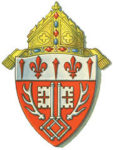 Website Sacred Heart Catholic School
Sacred Heart Catholic School seeks a motivated Language Arts and History Teacher who seeks to work with like-minded faculty and families in L'Anse, MI. This is a full-time position that will teach grades 5 through 8.
As a Language Arts and History Teacher at Sacred Heart Catholic School you will support and promote the spiritual, academic, and moral formation of the students entrusted to your care. 
RESPONSIBILITIES
Create lesson plans with objectives based on adopted curriculum and submit plans according to the school policies.

Develop students' language arts techniques by guiding through examples and demonstrations.

Provide instruction on reading, writing, presenting, and history. 

Prepare and arrange study materials.

Deliver engaging lectures to students on history and language arts. 

Assign and grade tests, papers, and projects and maintain records of the students' progress.

Develop teaching strategies to address the individual needs of students.

Engage students in learning in a Christ-centered environment.

Communicate students' progress to parents.

Continuously grow in your ministry by participating in religious ceremonies, training sessions, and reflection activities.
COMPENSATION Sacred Heart Catholic School puts great value in our Language Arts and History Teacher position by offering a competitive starting wage commensurate with education and teaching experience. We have a wonderful team of educators, support staff, pastor, and parents. 
SCHEDULE This is a full-time position that would start immediately through the second week of June 2023. 
WHAT YOU NEED TO SUCCEED
Bachelor's degree in Education or related field

required.

Previous teaching experience

preferred, but not required. 

Previous teaching experience

preferred, but not required.

Practicing Catholic in good standing with the church

preferred.

Excellent written and verbal communication skills.

A background in language arts and history and the skills required to teach these fields successfully.  

Must be able to maintain confidentiality.

Must be able to complete fingerprint scan, federally mandated background check, and VIRTUS training. 
APPLY ONLINE at diocese.hirescore.com
No phone calls or walk-ins, please. 
ABOUT Sacred Heart Catholic School is a Pre-K through 8th-grade private Catholic school serving  Baraga County, MI, since 1954. Students now come from three area counties for our classical  curriculum, small class sizes, family atmosphere, and focus on Truth, Goodness, and Beauty.