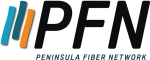 Website Peninsula Fiber Network
Peninsula Fiber Network, LLC (PFN), a rapidly expanding fiber optic telecommunications company, is seeking a full-time Regional Operations Manager to join their team in Mount Pleasant, Michigan. The Regional Operations Manager will be responsible for leading PFN's team in the central lower peninsula region of Michigan.
Candidates must be located in or willing to relocate to the Mount Pleasant area. Relocation assistance may be available.
RESPONSIBILITIES
Oversee operations, construction, and other departments located within the region.
Work with department leads to oversee all aspects of fiber optic network deployment projects, including construction, budgeting, resource allocation, etc.
Define scope and goals, set and track milestones, assign team priorities, and report regularly to executive management.
Provide strong top-down support, including team building, individual development, relationship building, team cohesion, and leadership organization.
COMPENSATION/BENEFITS PFN puts great value in the Regional Operations Manager position by offering a competitive annual salary range of $85,000-$120,000 commensurate with experience. PFN also offers excellent benefits including a 401K retirement plan with company contribution, insurance including health, dental, vision, and life, paid holidays, and paid time off.
QUALIFICATIONS
Bachelor's degree in a related field or equivalent telecommunications industry experience required.
Construction and technical operations experience required.
Past leadership experience in a fiber optic network organization required.
Familiarity with grant funding in the telecommunications industry preferred.
Must be willing to travel as needed (up to 30%).
A track record of increasing responsibility, including leading a team and supervising employees, contractors, and vendors.
Advanced knowledge, understanding, and experience in construction of a fiber optic network from start to finish.
Strong basic computer skills with proficient knowledge using Microsoft Office 365: Word, Excel, PowerPoint, Outlook.
Strong teamwork, leadership, and people skills.
Strong verbal and written communication skills.
Excellent integrity.
INTERESTED IN JOINING US? Click "Apply Now".
ABOUT Peninsula Fiber Network, LLC (PFN): PFN is a rapidly expanding fiber optic telecommunications company headquartered in Marquette Michigan. PFN was formed by Baraga Telephone Company and Hiawatha Communications, Inc in 2006. PFN now provides services in Michigan, Northern WI, and Eastern MN. PFN's parent companies have in excess of 190 combined years of operational experience in bringing transmission services to the rural telecommunications marketplace.
Learn more at https://www.pfnllc.net/