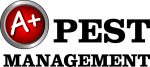 A+ Pest Management
A+ Pest Management, a locally owned and operated pest control service, seeks a Route Manager/Technician to join their team in Marquette, Michigan. The ideal person for this position is someone personable, energetic, and customer focused. Previous experience is not required. Those that have been successful in customer service, account executive, beverage route distribution, and hospitality have proven to be very successful when switching careers to route management. We will provide all the training needed for you to be successful in this industry.
If you have strong ethics, put people first, and enjoy working outdoors, we want to hear from you!
WHAT WE OFFER.
Compensation plan averaging $42,000 – $60,000 annually (base pay + commission).
Health insurance.
Paid time off and paid holidays.
Company provided uniforms.
Company truck and gas card.
Cell phone.
SCHEDULE/REGION. This is a full-time position generally working Monday–Friday 8am–5pm covering the Marquette, Michigan region.
WHAT WE ARE LOOKING FOR.
A professional and responsive manner at all times with excellent communication skills.
Outgoing individual. Great listening skills are key. You will visit customers, listen to their issues, and solve their pest control problems while developing long-term business relationships. We are not pushy salespeople. We are problem solvers with integrity.
Candidates with previous pest control experience helpful, however, we will train the right person who demonstrates exceptional customer service skills, a passion for our company and motivation to learn and excel in an exciting career helping others.
Valid driver's license and clean driving record required.
Able to physically perform the essential functions of this position which include driving a company vehicle, regular use of vision, your arms, legs and moving your whole body to lift, carry, balance, walk, crouch, general handling of materials, working indoors, outdoors and in all weather conditions, and using protective equipment while handling chemicals used with pest control. You must be able to repeatedly lift and carry up to 50 pounds.
Ability to work well individually and are self-motivated.
Ability to obtain Michigan Pesticide Applicator Certification within 60 days if hired. Training and learning material provided at no cost.
SOUND LIKE YOU? Take the next step and apply online at aplus.hirescore.com