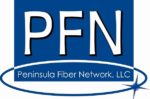 Website Peninsula Fiber Network
Peninsula Fiber Network, LLC (PFN), a rapidly expanding fiber optic telecommunications company headquartered in Marquette Michigan, seeks a full-time Sales Engineer to join their team. This person may be based out of Marquette, MI, or Northern Lower Michigan.
As a Sales Engineer, you will build strong relationships with the technical team members and voice product change and creation direction based on customer and prospect opportunities. The main responsibility of this role is to minimize any confusion between the sales operation and engineering regarding technical details and to assist the sales operation in network design and implementation projects.
MAIN RESPONSIBILITIES
Provide technical expertise to the sales team before, during, and after a sale.

Collaborate with Engineering on technical details of orders.

Create high-level design diagrams to represent products/services being sold.

Create and maintain customer-facing documentation regarding PFN's services.

Educate the sales team on technical details and terminology regarding PFN's products and services.

Conduct research on network products, services, protocols, and standards to remain up-to-date on developments in the telecommunications industry.

Work closely with PFN's engineers to stay current with PFN's ever-changing network.

Interact and negotiate with vendors, outsourcers, and contractors to purchase third-party transport or local loops.

Be able to propose additional products and services to customers based on customer requirements.

Identify areas where PFN can improve customer satisfaction and repeat business, then communicate those issues and possible solutions to upper management.

Other duties as needed.
COMPENSATION/BENEFITS PFN puts great value in the Sales Engineer position by offering a competitive salary based on knowledge and experience. PFN also offers excellent benefits including a 401(k) retirement plan with company contribution, insurance including health, dental and vision, paid holidays, paid time off, and the flexibility of remote work with a Home Office Reimbursement allowance.
QUALIFICATIONS
Bachelor's Degree in Computer Science or Electrical Engineering and/or 5-7 years experience in data networks (customer or service provider.)

Proven experience and success with LAN, WAN, Optical Transport design and implementation.

Proven experience with network capacity planning, network security principles, and general network management best practices.

Strong, hands-on technical knowledge of Service Provider transport networks.

Excellent knowledge of telephone systems.

Working technical knowledge of current network hardware, protocols, and Internet standards.

Hardware troubleshooting experience.

Excellent communication and leadership skills.

Strong, basic computer skills with proficient knowledge using Microsoft Office suite of programs, especially Excel and PowerPoint.

Good problem-solving skills.

Extensive application support experience may be helpful.
INTERESTED IN JOINING US? Apply online at pfn.hirescore.com
No phone calls, emails, or walk-ins, please.
ABOUT Peninsula Fiber Network, LLC (PFN) is a rapidly expanding fiber optic telecommunications company headquartered in Marquette, MI. Formed by Baraga Telephone Company and Hiawatha Communications, Inc. in 2006, PFN has grown from serving ultra-reliable Telecommunications, Transport, and Broadband Services in Michigan's Upper Peninsula to serving and employing over a multi-state group. PFN has employees working in office and remotely throughout MI and WI. Along with providing transmission services throughout Michigan, Northern WI, and Eastern MN, PFN is also the leading provider of Next Generation 9-1-1 services as well as MLTS 911. PFN plans to expand its transmission and 9-1-1 service coverage areas as they continue to grow. Learn more at pfnllc.net