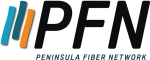 Website Peninsula Fiber Network
Peninsula Fiber Network, LLC (PFN), a rapidly expanding fiber optic telecommunications company, is seeking a full-time Support Specialist – Sales & Marketing to join their team in Marquette, Michigan or Mt. Pleasant, Michigan. As a Support Specialist, you will be joining a fast-paced and dynamic team that delivers an elevated experience to our customers. The ideal candidate has a strong administrative background and is looking to join a fully integrated team contributing to all areas of sales, marketing, and media support.
Candidates must be located in or willing to relocate to either the Marquette, MI or Mt. Pleasant, MI area.
RESPONSIBILITIES

Participate in Sales and Marketing meetings.
Manage numerous tasks and projects simultaneously.
Communicate and coordinate with internal departments.
Keep accurate records of customer interactions.
Escalate issues and work with team for resolution.
Place orders for Moves, Adds, Changes and Disconnects.
Manage PFN social media accounts and website updates.
Assist in preparing sales presentations.
Assist in answering incoming phone calls and requests.
COMPENSATION/BENEFITS PFN puts great value in the Support Specialist position by offering $21 – $23 per hour commensurate with experience. PFN also offers excellent benefits including a 401(k) retirement plan with company contribution, insurance including health, dental, vision, and life, paid holidays, and paid time off.
QUALIFICATIONS

Strong administrative experience.
Familiarity with CRM systems and practices.
Strong problem-solving skills.
Ability to multi-task, prioritize and manage time effectively.
Proficiency in Microsoft Office applications.
Excellent written/verbal communication skills.
ABOUT Peninsula Fiber Network, LLC (PFN): PFN is a rapidly expanding fiber optic telecommunications company headquartered in Marquette Michigan. PFN was formed by Baraga Telephone Company and Hiawatha Communications, Inc in 2006. PFN now provides services in Michigan, Northern WI, and Eastern MN. PFN's parent companies have in excess of 190 combined years of operational experience in bringing transmission services to the rural telecommunications marketplace.
Here at PFN we know our success and growth is achieved because of dedicated work from our employees and we strive to ensure our appreciation is known. We promote a collaborative workplace of teamwork and knowledge-sharing among co-workers. We encourage all employees to share their professional expertise throughout.
Peninsula Fiber Network is an Equal Opportunity Employer committed to diversity and inclusion.
Learn more at www.pfnllc.net