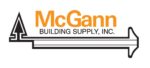 McGann Building Supply
McGann Building Supply, a lumber and hardware supply store, seeks a Truck Driver to join their team in Hancock, Michigan. This is a full-time Monday-Friday position—-no weekends!
WHAT YOU WILL DO.
Load and unload cargo.
Inspect and maintain vehicles and equipment.
Obey all traffic laws.
Ensure products are delivered in a timely manner.
Assist customers with loading/unloading materials.
Put away inventory and unload distributor trucks.
Load vehicle using a forklift.
WHAT WE OFFER.
Weekends off.
Starting pay of $20.00 – $25.00 per hour ($25.00 for those with a CDL).
Health and dental insurance.
Retirement plan.
Paid vacation.
WHAT WE ARE LOOKING FOR.
Valid driver's license required.
CDL a bonus, but not required.
Clean driving record required.
Proficient at driving large vehicles.
A physical ability to push, pull, lift and/or carry heavy objects (up to 80 lbs.) with assistance, secure loads with straps, chains or other fasteners, and climb up and down from our fleet vehicles and trailers.
Experience with lift trucks, hand trucks and pallet jacks a plus.
You are dependable, hardworking and a good communicator.
You work well under time constraints and can ensure deadlines are met.
COME WORK WITH US! Apply online at mcgannbuildingsupply.hirescore.com
McGann Building Supply is an independently owned, well-established lumber, building material and hardware supply store serving the area for more than 70 years. Our team members are experienced and committed to providing top-notch customer experiences.