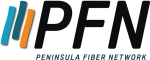 Website Peninsula Fiber Network
Peninsula Fiber Network, LLC (PFN), a rapidly expanding fiber optic telecommunications company, is seeking a full-time Wholesale/Carrier Account Executive to join their team remotely in Michigan. As a Wholesale/Carrier Account Executive, you are responsible for proactively maintaining wholesale/carrier customer relationships by managing all aspects of the customers' business needs. This includes focusing on growth and retention while meeting all departmental and corporate goals. This position requires prospecting, business development and intense focus on customer needs.
Regional travel is required (up to 50% of the time).
RESPONSIBILITIES:

Prospect, present and close the sale of network services to wholesale/carrier customers.
Assist in negotiating wholesale/carrier contracts.
Build and maintain relationships with prospects and customers.
Maintain a database of targeted customers, documenting their needs and time frames for potential new business opportunities.
Serve as liaison between customer and PFN's Engineering for all technical resources needed to assess and design network solutions.
Meet or exceed assigned monthly quota and work toward established sales goals and objectives.
Manage sales pipeline for designated accounts, and progress opportunities through sales funnel in CRM.
Cold call prospects, arrange meetings, prepare, and deliver customer presentations.
Write proposals, submit quotes, and negotiate contracts with customers and partners.
Work closely with the sales leadership team to determine, develop, and grow the sales channel by strategically targeting prospects.
Organize sales and marketing efforts to find new business.
Work with Service Delivery to ensure that post-sale implementation occurs effectively, and that the customer's needs are addressed.
Work with sales leadership to develop a sales forecast and the expense budget necessary to support sales efforts.
COMPENSATION/BENEFITS:
 PFN puts great value in the Warehouse/Carrier Sales Executive position by offering a competitive annual salary commensurate with experience. PFN also offers excellent benefits including a 401(k) retirement plan with company contribution, insurance including health, dental, vision, and life, paid holidays, and paid time off.
 QUALIFICATIONS:
Bachelor's Degree in business or technology, or equivalent experience required.
7+ years of successful telecommunications sales experience, preferably in the wholesale telecom space preferred.
Solid understanding of telecommunications and high-capacity network solutions.
Strong public relations skills.
Effective and efficient time management.
High level of written and verbal communication skills.
Ability to think strategically and work effectively with a diverse group of co-workers and customers.
Experience selling at a C-level is preferred.
Must be willing to travel.
Valid state driver's license.
ABOUT Peninsula Fiber Network, LLC (PFN): PFN is a rapidly expanding fiber optic telecommunications company headquartered in Marquette Michigan. PFN was formed by Baraga Telephone Company and Hiawatha Communications, Inc in 2006. PFN now provides services in Michigan, Northern WI, and Eastern MN. PFN's parent companies have in excess of 190 combined years of operational experience in bringing transmission services to the rural telecommunications marketplace.
Here at PFN we know our success and growth is achieved because of dedicated work from our employees and we strive to ensure our appreciation is known. We promote a collaborative workplace of teamwork and knowledge-sharing among co-workers. We encourage all employees to share their professional expertise throughout.
Peninsula Fiber Network is an Equal Opportunity Employer committed to diversity and inclusion.
Learn more at https://www.pfnllc.net/